Colombia´s capital Bogotá is a rapidly growing metropolis: While the population was 6.4 million at the turn of the century, this number increased to 9 million until today and is expected to continue to grow to 11.4 million living in the greater metropolitan area until 2035.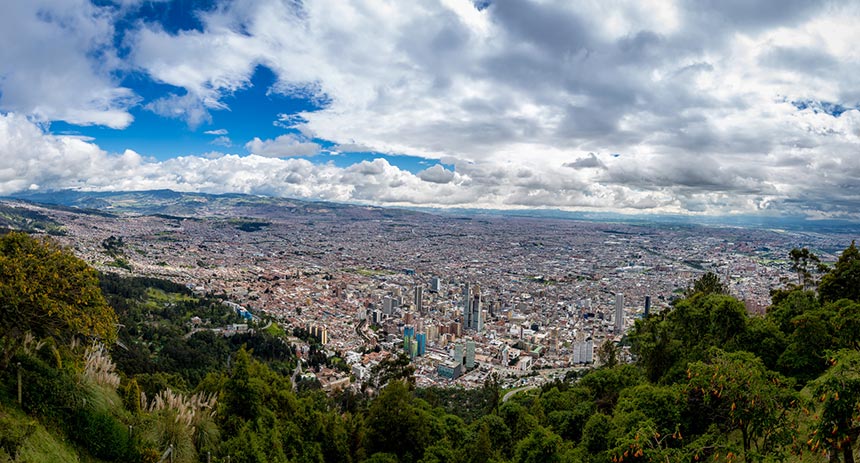 This dynamic population growth is reflected in the real estate market, where the demand for housing space has been increasing in the last couple of years. Especially the need for housing for the urban population has grown which among other reasons is attributed to the high GDP, with an interest of debt of 12% on a rising trend. About a quarter of the Colombian GDP is being generated in the city of Bogotá which means that its economic power is higher than that of the countries Ecuador, Panama or Costa Rica.
Bogotá´s international image is gaining positivity: The Financial Times ranks Bogotá on 4th place of Latin America´s future regions right behind São Paulo, Buenos Aires, and Rio de Janeiro. Foreign investments are increasing as in the year 2005 only 487 companies in Bogotá listed foreign investments and 10 years later, 2015 this number rose to 1.502 companies.
Bogotá is also a very attractive city for young people, as the sixth biggest, partly widely renowned, Universities have a combined number of 80.000 students. These universities are all located around the colonial historic center in the middle of downtown Bogotá.
The market reacts to the increased demands. While the market for commercial spaces already is largely saturated, the high demand in the residential sector triggered the start of various housing projects in the center. Besides the completion of the so far highest building, the Torre Batacá BD with 57 floors and a height of 240 m, other residential towers are being developed in its direct proximity.
The from the market so far undiscovered hillside locations on the outskirts of the historic old town, are characterized by non-landmarked buildings and fallow land. Here student life and business activities are taking place in a hip and urban setting next to popular restaurants and bars and the most important museums.
There we will not develop residential towers but rather architecturally attractive objects with up to six floors with breathtaking views of the city and within walking distance to universities, the governmental and financial center, and the most important cultural areas of the city.
This is where the so far unsaturated investment opportunities for German investors come to life:
to purchase at the right moment in time and in a still deregulated market in a metropolis,
to develop economically,,
to generate an increase in value over the long-term or to rent out to an affluent middle class for good prices.
= fair investments with high returns, on a long-term basis and in fantastic locations.